Marshall vs. Virginia Tech
Lane Stadium, Blacksburg, VA
Saturday, 9/12/2009, 1:00 p.m.

The Virginia Tech Hokies come off a disappointing defeat at the Georgia Dome against Alabama after a lackluster performance by the offense. On Saturday, they face the Marshall Thundering Herd. Over the past few seasons Marshall's program has sought bigger and tougher opponents than those of their conference. They want to take their program to the next level by causing some big upsets. Losses to such teams in the past have not deterred them. In 2008 they faced West Virginia and Cincinnati. In 2007 they faced Miami(FL) and again West Virginia. Virginia Tech faced them back in 2005. They haven't yet mustered a performance that gave any of these automatic bid conference opponents a scare, but the day that they will may come sooner than expected.
Marshall ranks as the one of the powerhouse teams of Conference USA. That conference usually includes a team that from year to year carries the potential to spoil any given opponent from an automatic bid conference such as the ACC. East Carolina, also of Conference USA, did exactly that last season to the Hokies on opening day. Marshall would love to jump on the opportunity to that in 2009. Marshall has a few adjustments to make from their previous week's contest. They just barely squeaked out a three point victory against Southern Illinois, a team most expected them to beat handily. It took a Southern Illinois illegal substitution penalty while lining up for a punt to keep the Marshall drive going that lead to the game winning field goal.
Quarterback Brian Anderson leads Marshall's offense. He has the starting job for the first time at the 2009 season start. After last week's game, he has four starts overall going back over the previous two seasons. Although Marshall struggled against Southern Illinois last week, his numbers didn't look too bad. He threw for a 75% completion rate, 316 yards, and 3 touchdowns. Wide receiver Charles Walker caught for 119 yards, and tight end Cody Slate caught for 114 yards. Slate returns as a Senior and a reliable contributor to the team on offense. Standing at 6'4" and weighing 220 lbs, he's a lot for any defense to handle. The team mustered less than 85 yards of rushing, so their proven assets clearly lie in the passing game.
The Marshall coaching staff expressed most of their disappointment about last week's struggle for a win to the defensive play. They allowed 206 yards of rushing and 105 yards of passing. An offensive powerhouse from an automatic bid conference would probably have this defense for lunch.
Turning towards the Hokies, College Football fans consider them the favorites to win Saturday's contest. Like any hungry team from a weaker conference, they can't take Marshall too lightly. At the same time, they need to use the opportunity to exercise some of their weaker aspects of the game, namely offensive aspects. Last week against Alabama, the Hokies offense did face what some argue as the number one defense in the country, so let's keep that in perspective as we move forward. That said, let's review some of the numbers from which the Hokies must improve.
First Downs: 11
, half as many as Alabama
Rushing: 64 yards
, less than 25% of Alabama
Receiving: 91 yards
, less than half of Albama
This offense has a lot of returning players, so we can't make the claim that they have just begun to learn how to read each other. That should have happened throughout a majority of last season. I think the offense should put most emphasis on consistent, textbook execution of their plays on Saturday. Going for the home run pass or the dazzling the fans with great showmanship may have a place at some moments of the game, but for the most part, the Hokies need to demonstrate smooth, consistent, and error free offensive play. I hate to raise the same topic year after year, but when I examine how the offense usually folds, it comes down to the line. Taylor's speed and quickness allows him to mask that to some extent, but only a very rare quarterback can consistently hit his receiver precisely while scrambling. On top of that, the constant thought of a looming collapse in the offensive line can make even a good quarterback underthrow or overthrow the ball. Plays run against Marshall need to give Taylor the confidence that he'll have the time to execute the called play. With receivers like Dyrell Roberts, Danny Coale, and Jarrett Boykin, Taylor has the offensive weapons to make great strides in yardage. The catch, he the offensive line and the playcalling need to enable him to use them.
Rushing for the Hokies introduces an unexpected challenge with the injury to Darren Evans. His injury leaves Josh Oglesby and Ryan Williams as the number one and two tailbacks. This situation presenting itself just before the season opener against Alabama makes nothing short of a great challenge, so let's not get too discouraged. The Virginia Tech running game has some great gains lying ahead of it. Playing against Marshall on Saturday presents the perfect opportunity to get some much needed confidence based on experience instilled into both running backs.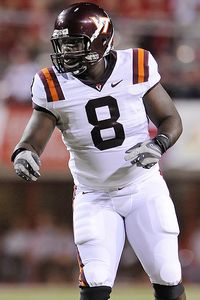 On the injury report, Cornerback Stephan Virgil injured his knee in practice on 9/9, but the Hokies have him listed as probable for the Marshall game. Tight end Greg Boone injured his chest against Alabama and has a status of questionable for Saturday's game. My guess is if Boone's not 100%, he won't see much action if any against Marshall.